Explore Hilton Head Island By Bike
Hilton Head is known for our wonderful bike paths! With 12 miles of hard packed sandy beaches and 50 miles of bike paths, you could literally ride the entire island.
Hilton Head Bike Pathway System
The Town of Hilton Head Island is proud to provide a network of parks that capture the unique character of the Town's natural environment and recreational opportunities for our residents and visitors. While using the pathway system, please visit and enjoy these facilities. Public restrooms are available in most parks.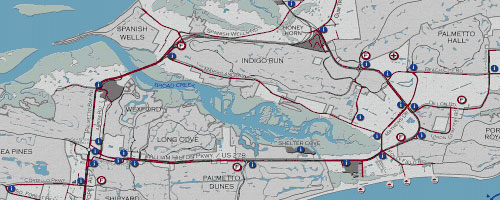 Tips for safe biking
Please obey all traffic signals and pathway markings. Stop signs must be obeyed for safety. Bicycles are vehicles and must obey SC traffic laws.
Travel the pathways at speeds that allow for the safety of pedestrians and other users.
Never ride within the roadway against traffic. State law requires bicycles to drive like all other vehicles.
For your own safety, please consider riding bicycles on a pathway instead of the roadway when one is available.
Please ride single file and keep a safe distance from other bicyclists.
Watch out for motorists! In South Carolina, motorists must yield to pedestrians and bicyclists within marked crossings, but they may not see you.
Please yield to pedestrians. When resting or stopped, please move off the pathway.
Most sections of the pathways are not illuminated. If you must bike at night, please wear light colored clothing or carry a flashlight. Bicycles must have a red rear reflector and a headlight when biking at night.
When approaching slower pathway users from behind, please sound your warning device, or call out "Passing on your left."Always pass on the left.
Bicyclists should always wear a helmet, especially children 12 and under.
Make eye contact and use hand signals. Assume other bicyclists and motorists don't see you. Hand signals tell motorists and other path users what you intend to do and will ensure everyone's safe enjoyment of the pathways. An audible signal such as a bell or voice commands like "Passing on Left"are useful to let other pathway users know of your approach and/or intentions.
Be courteous, alert, and predictable.
Due to the amount of bicycling activity on Hilton Head, the local ordinance states that bikers are to yield to autos before entering intersections, so please watch out for motorists as they are only required to yield in some marked designated crossings.