Romantic Getaways to Hilton Head Island
A romantic vacation to commemorate the beginning of a special relationship. A getaway for two to celebrate many moments together and many more to come. With its crystal white beaches, immaculate golf courses, scenic bike paths and gourmet cuisine wrapped up in a southern atmosphere, Hilton Head Island makes for the perfect vacation destination for relaxing and reconnecting with loved ones. Find below a few suggestions to make the most of your romantic getaway to Hilton Head Island.
Beaches
With over 10 miles of pristine beach front, Hilton Head offers romantics the space they need to make the most of a day spent at the beach. Whether it's walking hand-in-hand along the flat sandy banks of the Atlantic Ocean or wading in the surf to cool off, there's a perfect stretch with your name on it.
Spa Days
Pamper yourself and your loved one when you visit Hilton Head Island. A couple's treatment may include soothing massages, revitalizing facials, or aromatherapy wraps. Which ever your passion, a day at the spa is a sure way to take all your cares away and simply enjoy each other's company.
Golf
Share your passion for exceptional golf with over 20 championship courses to choose from. From the world-famous Harbour Town Golf Links at Sea Pines to local favorites such as Hilton Head National Golf Club, spend a day together chasing that illustrious hole-in-one along the Atlantic Ocean or while meandering through centuries-old maritime forests.
Dining
Rekindle the magic on date night with reservations at a romantic restaurant. Hilton Head Island is home to a delectable variety of fine dining establishments, serving everything from locally caught seafood to historic southern dining, and a taste of Italy to an upscale martini. Add a little candlelight to complete the mood.
Art & Culture
If discovering art and cultures your idea of a romantic getaway, Hilton Head has some of the best to offer. Experience musical and theatrical performances at the Art Center of Coastal Carolina or mingle with the locals at one of the annual food, wine, and cultural festivals.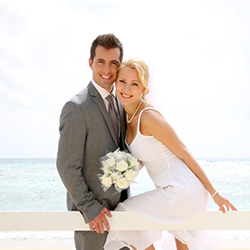 Weddings on Hilton Head Island
South Carolina's Hilton Head Island offers an unparalleled setting for a most unique and special occasion—your wedding. With remarkable natural beauty, expansive beaches, and beautiful southern ambiance, Hilton Head can give you everything you need to plan the luxurious wedding of your dreams. Island Getaway does not have permission to allow weddings or large parties in the properties we manage, but we can provide recommendations and accommodations to suit multiple families, in multiple properties within a close proximity. Please give us a call today.
A few things to know before tying the knot…
Both applicants must apply in person at the Office of the Judge of Probate at the county courthouse or the Probate Court Satellite office on Hilton Head Island.
Beaufort Office
The Beaufort County Courthouse is located at 102 Ribaut Road, at the Government Center at the corner of Ribaut Road and US Hwy. 21 in Beaufort, SC (843-255-5850), and is open Monday-Friday, 9:00 AM – 4:00 PM.
Hilton Head Island Office
The Probate Court Satellite Office is located at 539 Wm. Hilton Parkway, Hilton Head Island, SC (843-255-5866), and the Judge is available only Tuesdays, Wednesdays or Fridays, 9am-4pm, by appointment only.