Are you trying to find the perfect destination for your next family vacation? Look no further than Hilton Head Island, it's a hit with kids and parents alike! The miles of sandy beaches are perfect for building sandcastles on, and there are dozens of kid-friendly activities to be found on the Island!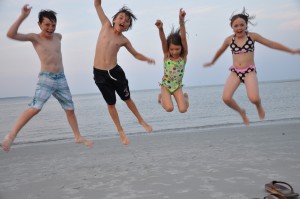 Hilton Head is best known for its pristine beaches, you could spend an entire vacation visiting a new beach each day! Driessen Beach is one of the most popular beaches for families. The beach is public, yet quiet, and its amenities include: changing facilities, a playground and most importantly, lifeguards.
In addition to incredible beaches, Hilton Head Island is home to amazing tidal creeks and salt marshes. These waterways are best explored with a kayaking adventure. It's a popular activity among locals and visitors, so there are plenty of kayak rental locations on the Island, and you can even hire a guide to show you the best areas.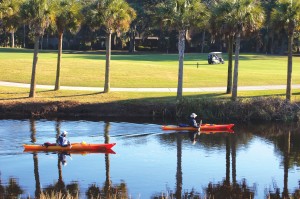 Let your kids monkey around on Gregg Russell Harbour Town Playground!  The playground has lots of stations with equipment for children of all ages, a favorite is always the swings! The kids will probably need to refuel after spending the morning running around; luckily the playground also has a large picnic area! Before hitting the playground, stop by the local market to pick up some goodies for a yummy picnic basket lunch!
One morning, head on over to the South Beach Marina and take a zodiac cruise, it's the perfect way to view the abundant wildlife of Hilton Head. Spotting the dolphins surfing in your boat's wake is always a highlight!
While Hilton Head is a mecca for professional tennis players, it's also a great place to get your children interested in the sport.  Van Der Meer Tennis in the Shipyard Plantation is the ultimate place for juniors to fall in "love" with the game! Along with typical junior camps and clinics, they also have a "QuickStart" Tennis program especially designed for kids ten and under.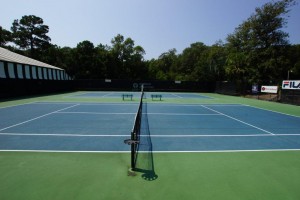 Even kids can get tired and need some down-time. When this happens, you can spend the day lounging by the pool of your vacation rental! If your rental home or villa includes a grill or BBQ (many of them do) it's easy to whip up a favorite dinner of kids – burgers and hotdogs!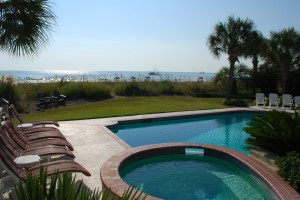 Now that we've convinced you to take your family to Hilton Head, you may be wondering where on the Island you should stay? We recommend Palmetto Dunes. It's a picturesque beachfront community that is home to tennis courts, golf and an 11-mile lagoon. Because of all of this, it has been voted as one of the top family destinations on the East Coast! Palmetto Dunes attracts many families, so your kids will have no problem making friends while on vacation! Find your perfect Palmetto Dunes rental here.