Hilton Head is filled with tons of restaurants serving up delicious dishes. If you're wondering where to go and what to order for lunch or dinner while vacationing on the Island, we've listed ten of our favorite local eats from Hilton Head Restaurants.
10. The Local Clams appetizer from The Old Fish Factory
At this restaurant overlooking Broad Creek, you've got to order the Local Clams. These yummy, local little neck clams are sautéed, making them a healthy alternative to the usual fried clams and chips option.
9. Butt and Bones from The Smokehouse
The Smokehouse grills all of their meats low and slow, so you know it's fall-off-the-bone tender. The Butt and Bones plate includes the house favorite ribs, and pulled pork.
8. Low Country Shrimp Boil from The Crazy Crab
Feast on this Lowcounty delight. In this local dish, a half-pound of plump and juicy shrimp are boiled up with potatoes, sausage and corn on the cob. If you really feel like indulging, they serve up a full-pound version as well.
7. The Charleston Special from Lowcountry Backyard
The Charleston Special is Lowcountry Backyard's twist on the classic Shrimp and Grits. The restaurant swaps out the shrimp for local fried flounder and the grits are filled will delicious cheddar cheese.
6.  Blackened Carolina Classic Catfish from Skull Creek Boathouse
Enjoy a traditional Lowcountry fish dish at the Skull Creek Boathouse. The local catfish is often caught just the day before. Classic collard greens and red rice accompany the catfish.
5. Divine Fudge Lava Cake from Alexander's
Make sure to bring a full appetite with you when you dine at Alexander's in Palmetto Dunes, because you won't want to miss dessert. The warm and gooey chocolate fudge cake comes with a scoop of ice cream from our favorite ice cream place on the Island, Hilton Head Ice Cream.
4. Blue Crab Benedict from Truffles Café
The next time you go for brunch on Hilton Head Island, order the Blue Crab Benedict from Truffles. It's a mouthwatering crab cake served over top of grits, and is smothered in delicious homemade hollandaise sauce.
3. Tarragon Grilled Manhattan Steak from Catch22
So much better than your average steak. All of the beef at Catch22 is aged for 28 days for great flavor. The 22 ounce steak is grilled with tarragon and a reduced cabernet sauce finishes the dish.
2. Manchester Farms Buttermilk Fried Quail from CQ's Restaurant
Love chicken and waffles? Then you have to try CQ's upscale version which has fried quail on a bacon and Belgian waffle. The quail comes from a local South Carolina supplier.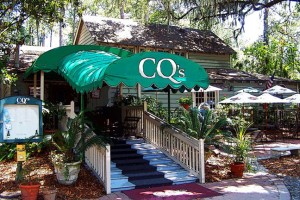 1. Oyster Po Boy from Reilley's Grill and Bar
We think this Oyster Po Boy sandwich is one of the best on the Island. The oysters are nice and crispy after going in the deep fryer. Be sure to dip the sandwich in a little of the house-made tartar sauce.
What's been your favorite meal while vacationing on Hilton Head Island?