1.  It's truly a home away from home
A hotel room is always a reminder that you're not at home, and many people can't quite relax while staying in one. When you rent a vacation home, you'll feel relaxed right away because, you are at home. There's nothing better than coming back to relax on the comfy couch in the living room of your rental home after a day of swimming at the beach, shopping or exploring Hilton Head, feeling completely at ease.
2.  Feel a greater sense of space
No matter how big your hotel room is, after a day or two, it will start to feel cramped, especially if you're traveling as a family, or as a group. In one of our Island Getaway rental homes you'll have separate, defined living quarters including a kitchen, living room, bedrooms and most importantly, multiple bathrooms. Many of our homes have an outdoor space, which can be a lifesaver when dealing with active children – it gives them a safe space to run around.
When traveling with friends or family, it can be nice to carve out a little alone time to recharge and re-energize, and a home provides lots of rooms and nooks and crannies to relax in.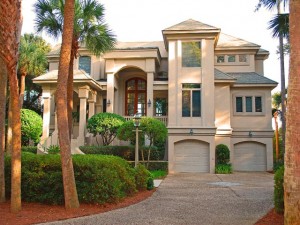 3.  Save money
When looking at prices of vacation rental homes, they might seem a little expensive at first, but most are priced per week, so when you compare the per night cost to that of a hotel, the rates are often comparable. Most of our homes have multiple bedrooms, and some have up to ten bedrooms sleeping, perfect for larger families or groups, so it's often less expensive than renting out a block of hotel rooms.
All of our homes come with kitchens, so you can save a ton of money by self-catering some or all of your meals. Eating out can eat up your budget quickly. Meals at home don't have to be elaborate or take up hours of your day. Think cereal for breakfast, sandwiches for lunches, and you can easily put together a nice dinner by stopping at the grab and go section of local super markets.
4.  More privacy than a hotel
With rental homes, you won't have to worry about putting out 'Do Not Disturb' signs if you are a late sleeper. At Island Getaway, we have homes with up to 10 bedrooms, so everyone can have their own room. Home renters also love having multiple bathrooms! Many of our rental homes come with private pools and grills, so you can swim when you want to swim, and grill whatever you want. These outdoor spaces are perfect for a low-key BBQ or private party!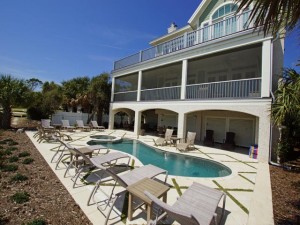 5.  A perfect home base for an extended getaway
Rental homes are ideal for snowbirds or anyone looking to take a longer, extended vacation. Most of homes can be rented by the week for a number of weeks, and in the winter, we have homes that can be rented by the month. When you vacation on Hilton Head for an extended period you'll really get a feeling for the local culture, and you'll start to have your favorite spots, like restaurants and bars in your neighborhood, where you'll become a regular.