Beaches On Hilton Head Island
When it comes to finding the perfect spot to cool off during your vacation, Hilton Head Island knows how to deliver. Enjoy over 12 miles of beach that runs along the Atlantic Coast and you'll find the perfect stretch for an early morning jog or family afternoon spent building sandcastles. Though the entire beach, from the ocean to the high water mark is public, access remains private. The Town of Hilton Head Island provides four public beach accesses, as well as two other points at Palmetto Dunes and Sea Pines.
Alder Lane Beach (public):
Located off South Forest Beach Drive, Alder Lane Beach is considered a great place for solitude during the summer season. Its hard-packed sand at low tide makes it also a great spot to enjoy an early morning jog or a sunset walk on the beach. Beach amenities include lifeguard, showers and toilets.
Coligny Beach (public):
Cool off at the island's most popular spot for sun bathing and swimming. Coligny Beach features showers, bathrooms, change room facilities as well as a water fountain area for kids. The beach is located in the heart of downtown Hilton Head and directly across the street from one of the Island's major shopping areas, Coligny Plaza.
Driessen Beach (public):
Located mid-island at the end of Bradley Beach Drive, Dreissen Beach offers an incredible spot for those looking to get away from the normal hustle and bustle of Hilton Head. The wooded location provides parking and beach access, and other amenities including showers, restrooms and lifeguards. Families will enjoy the playground and picnic area, while couples will enjoy the boardwalk for casual walks.
Folly Field Beach (public):
Located on the mid-island section of Hilton Head Island, Folly Field Beach is considered a favorite among surfers. Visitors will find public restrooms, showers, drinking fountains, lifeguards and a boardwalk. Swimmers are often advised to be on the cautious side as the undertow can be very strong and riptides are common.
Palmetto Dunes (plantation, gate pass required):
Palmetto Dunes has two beach accesses. The Disney Beach access, located between the Marriott and the Hilton, offers parking, restroom facilities and a snack bar. The Dunes House, located right inside the north gate, offers parking, a snack bar and restrooms with showers. Shipyard (plantation, gate pass required): Access is at the Crown Plaza Resort. Parking is available at the very end of Shipyard Drive, though it fills up in the busy season. Access through the hotel is for hotel guests only.
Sea Pines (plantation, gate pass required or $5 gate fee per day):
Access is available at the Sea Pines Beach Club which offers many amenities such as restrooms, food service, a bar, picnic tables and showers. Some parking is available, although it fills up very quickly in season.
South Beach in Sea Pines is another beach access. There is no public parking, so walking or biking are indicated. Please note at high tide there is little or no beach and there are no amenities here. Otherwise, this is a pleasant and uncrowded area where dolphins and other wildlife abound.
Parks
Audubon Newhall Preserve:
Off Palmetto Bay Road, across from the Post Office – 50 acres of shaded trails (loop), kid friendly. An information guide at the entrance will guide you through the area.
Chaplin Park:
Between Singleton and Burkes Beach Roads – Three multipurpose fields, tennis courts, basketball court, playground, outdoor showers, restroom facilities and beach access.
The Crossings Park and Bristol Sports Arena:
Located on Helmsman Way off Palmetto Bay and Arrow Roads – Skate park, playground and public restrooms.
Harbour Town Playground:
Located in Sea Pines – Large playground, picnic area, public restrooms, close to shops and restaurants. ($5 gate fee per day for Sea Pines activities)
Jarvis Creek Park:
Off William Hilton Parkway – Passive, open fields, playground, fishing dock, picnic area, restrooms and walking trails.
Animal Regulations
April – May – Animals must be on a leash between 10AM and 5PM.
The Friday before Memorial Day until Monday of Labor Day weekend – NO animals allowed on the beach between 10 AM – 5 PM.
Tuesday after Labor Day – September – Animals must be on a leash from 10 AM – 5 PM.
October – March – No leashes required at any time. Animal IS required to be under positive voice control.
On the beach or not, local law requires owners to clean up after their pets.
Seasonal Rules from April – September
No stunt kites between 10 AM – 6 PM.
No sand-sailing between 10 AM – 6 PM.
No fishing or surf casting in designated swimming areas.
No surfboards, boogie boards or other articles to ride the surf in designated swimming areas.
No Frisbees or other team sports involving a ball in designated swimming areas.
No games with metal components (such as metal horseshoes) in designated swimming areas.
Lights Out By 10pm. to protect the Sea Turtles!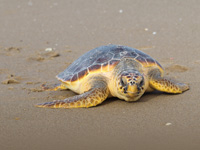 The South Carolina Department of Natural Resources patrols the beaches as part of the Sea Turtle Protection Project. To protect loggerhead turtles, a town ordinance stipulates that artificial lighting must be shielded so that it cannot be seen from the beach, or it must be turned off by 10pm from May 1 to October 31 each year.
Please make sure no interior or exterior lights from your vacation unit illuminate the beach after 10pm. To avoid interior lights illuminating the beach, close curtains, blinds or shutters after this time.
Violations can result in fines up to $1100 from SC Department of Natural Resources.
For more information, visit www.seaturtle.org/nestdb
Prohibited at the beach all year long:
Liquor, beer or wine
All forms of glassware
Shark fishing
Horses
Sleeping on the beach after midnight
The operation, launching or landing of motorized watercraft (except in emergencies) Please take care of our beaches.
Place litter in the trash receptacles provided.
Personal Watercraft Rules
New Rules governing people who operate personal watercraft in Beaufort County waters began May 6, 1997. The Rules are contained in the South Carolina Personal Watercraft and Boating Safety Act of 1996.
No personal Watercraft may be operated at night
All passengers on the craft must wear an approved flotation device
People under 16 who want to ride a watercraft of 15 horsepower or more without an adult must first pass a safety training course
The craft must be equipped to circle or shut off if the rider falls off
No vessel may exceed idle speed within 50 feet of a moored vessel or other fixed object or person, nor within 100 yards of the Atlantic Coast
No one may jump a wake within 200 feet of the vessel creating it
Anyone younger than 12 in a boat must wear a flotation device
No boater may harass wildlife
First Aid Tips
We hope you don't have any problems while visiting Hilton Head Island, or if you live on Hilton Head Island. But, if you do have any of the following problems, we offer some helpful hints for you:
Sunburn – Soak in cool water unless skin is broken or blistered. Ibuprofen may help.
Bee Stings – Apply a baking soda paste and ice. If allergic, seek medical help.
Jelly Fish Stings – Apply vinegar, sugar, salt or dry sand. After 20 min., rinse with salt water.
Crab Bites – rinse well, disinfect, and apply antibiotic ointment. May need stitches.
Tick Bites – DO NOT attempt to remove the tick. Cover with Vaseline or a film of oil. When insect is free, remove with tweezers. Look for flu-like symptoms for up to two weeks. If this occurs, seek immediate medical attention.
Snake Bites – CALL 911. Use a compression dressing just above site, NOT a tourniquet.
Oyster Shells – cuts and abrasions can result in serious infections. Medical treatment advised.
Alligators – Do NOT go near alligators. They run very fast. Do NOT feed or tease!
Sting Ray – rinse with water and apply heat to neutralize sting. Seek medical attention.